Rope Access techniques are relatively new in the Netherlands and Belgium. Abroad, however, there is more experience in this area. In Great Britain, for example, people have been working with these techniques for over 20 years and a sophisticated training, registration and quality system has been developed under the name IRATA. The IRATA guidelines, which were developed in collaboration with the British Labor Inspectorate (HSE), are now seen all over the world as the standard for the use of Rope Access techniques.
Statistics show that within the petrochemical industry the Rope Access technicians (who already work in this sector according to these guidelines) have the lowest risk of all employees!
IRATA membership
Are you looking for a reliable Rope Access contractor? We strongly recommend that you only use companies that work according to these strict international guidelines! Using IRATA guidelines implies that a Level 3 supervisor is always present at the workplace. This is a technician who has completed a number of long intensive courses and who can rely of many years of experience. Unfortunately, in the industry we are increasingly confronted with companies that falsely claim to use IRATA guidelines. You can recognize IRATA contractors by the IRATA Logo with the membership number below (eg MEMBER 5006/OT). O stands for operational (operational companies that do executive work), T stands for Training companies. There are operational companies, training companies and companies that are both O and T.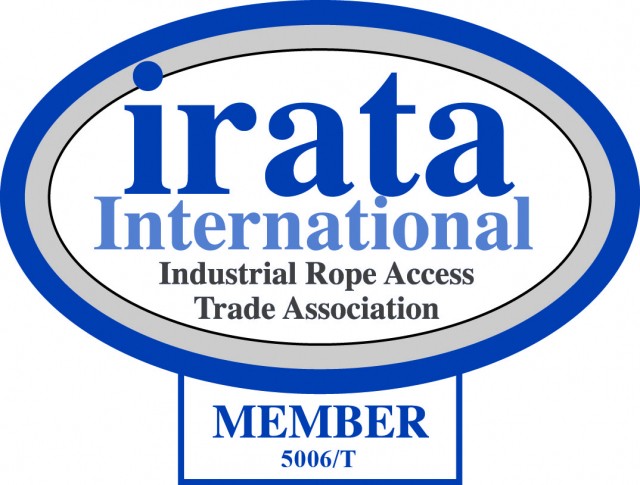 Interesting documents
Trainings
Curious about our IRATA training? View our IRATA offer here.
Recertify
Would you like to know more about IRATA recertification? Then read the blog.
ICOP
Of course the entire guideline of IRATA, the International Code Of Practice. Here you will find all relevant information on how to work in accordance with the IRATA guideline, which is now represented worldwide and on every continent. Free to download.
Safety Bulletins
The section 'Safety Bulletins' is very useful to read. This contains all lesson learned, (near) incidents) and other relevant safety items.
Work and Safety reports
Here you can find all reports about work and safety regarding rope access.
ICOP en Topic sheets
Via this link you can find all sorts of information about IRATA, both training and execution.
The ICOP (IRATA's Code of Practice) has also been published here. Furthermore, important topic sheets are mentioned, but also how to deal with edge protection (Edge management) and falling materials (Dropped objects). In short; definitely worth a read!
Other useful reads
Reading material if you just want to know everything.
FAQ's
Frequently asked questions about IRATA.
Do you have any other questions about IRATA education, certification of membership? Let us know, we are happy to help.